[ad_1]

Leicester's mayor has urged people to "stick together" and stay at home after lockdown restrictions were tightened.
Non-essential shops have shut and schools are to be closed to most pupils in response to a surge in coronavirus cases in the city.
Sir Peter Soulsby said he hoped they would be able to work with the government to "get on top of whatever is out there".
The measures announced by Matt Hancock are the UK's first local lockdown.
The health secretary said the city had "10% of all positive cases in the country over the past week".
The Department of Health said as of 17:00 BST on Monday, 43,730 people have died in hospital of coronavirus, an increase of 155 on the day before.
The tightening of restrictions in Leicester will last for at least two weeks and apply to the city centre and a number of suburbs.
Mr Hancock said the measures would be enforced by police "in some cases".
Leicestershire Police said it would "provide proportionate policing under the relevant legislation".
Sir Peter said he was glad the health secretary had introduced measures that went beyond just extending the current level of restrictions.
"What we got was more wide-ranging than we'd anticipated and I'm really grateful for that," he said.
"Because while it is a pain and a nuisance for us in the city to be subject to that level of restriction and to have the clock, as it were, turned back, it is nonetheless something that has some realistic prospect of being effective."
The loosening of restrictions in England which are due on Saturday, including the reopening of bars, restaurants and hair salons, will also not be taking place in the city.
The relaxation of shielding measures on 6 July – which will allow the most clinically vulnerable to spend more time outside – has been cancelled in Leicester.
Shadow health secretary Jonathan Ashworth said the government had left people in the city "anxious and confused".
The Leicester South MP said the guidance on essential travel was unclear and there had been "no clarity" on whether businesses in the city would receive financial help.
He urged the government to hold a news conference to provide more detail.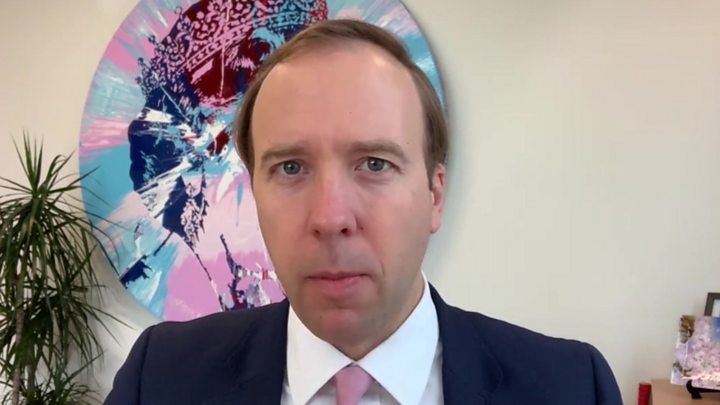 Labour leader Sir Keir Starmer echoed calls for a media briefing, saying the people of Leicester were "crying out for answers to perfectly legitimate questions".
Downing Street said legislation already existed to allow the government to enforce the local lockdown but it needed to be signed off by the health secretary.
A spokesman said there were no plans for a news conference, while Prime Minister Boris Johnson said he would "stay in close contact" with Leicester's mayor "as we monitor the situation".
Sir Peter also criticised the government and Public Health England for being too slow to share testing data with the city's officials.
He said local leaders had tried to get figures from the government "for weeks".
He added: "I wish they had taken a more speedy decision rather than leaving it 11 days from the secretary of state's first announcement.
"That's a long gap, and a long time for the virus to spread."
Mr Hancock said Leicester's seven-day infection rate was 135 cases per 100,000 people – three times that of the next highest city.
Bradford, Barnsley and Rochdale have all seen 45 or more cases per 100,000 people in the last week.
Dave Stokes, chairman of Leicestershire Police Federation, called on the government to provide more detail on what the public can and cannot do during the lockdown.
"As we have seen over recent weeks and months, if the guidance and messaging from government is confusing for the public, then it will be almost impossible for our colleagues to police," he said.
Nottinghamshire Police said officers could fine visitors from Leicester who they suspected had travelled to Nottingham for a "night out".
The force said it would work with British Transport Police to ensure people were not coming to the city on trains from Leicester to shop or visit pubs.
'Heartbreaking' for pupils as schools shut
Teresa Lander, 51, whose daughter goes to Launde Primary School in Oadby said the local lockdown was "a surprise and a bit upsetting" for parents and pupils.
"It's worrying how much school they are missing, it's a massive gap in their learning if they're not in from March to September," she said.
"They were having fun being back at school, it's disappointing for them, but you've got to respect it."
Read more reaction from local parents here.
The local lockdown has also affected Leicester residents who had made holiday plans.
Tracy Jebbett, 50, was due to travel to Pentewan Sands in Cornwall with her husband and daughter on 11 July.
But the campsite the family had booked put up a Facebook post on Tuesday, saying they would not allow anyone from Leicester to visit the site.
"I feel like a Leicester leper," she said.
"I understand why, but I think they should've contacted the holiday goers from Leicester privately by email."
Businesses also said they had been left reeling by the abrupt nature of the announcement.
Blake Edwards, owner of Flappers and Gentlemen salon, said he was "devastated" by the news as he was due to reopen on Saturday and had bookings for the next five weeks.
"Time is running out [for the business], we're going to need more support," he said.
"Even though the staff is being furloughed, rent still needs to be paid, all the other bills still need to be paid."
The government has confirmed businesses that have been forced to shut their doors because of the local lockdown can re-furlough staff.
Restaurant owner Shaf Islam said: "I had a spring in my step getting ready for the reopening on the fourth of July.
"To say the news is a big disappointment is an understatement. We'd spent a lot of money and I'd called staff back from furlough."
Follow BBC East Midlands on Facebook, Twitter, or Instagram. Send your story ideas to [email protected].
---
Do you live, work or run a business in the area? How will this affect you? Share your experiences by emailing [email protected].
Please include a contact number if you are willing to speak to a BBC journalist.


[ad_2]