[ad_1]

Labour leader Sir Keir Starmer has spoken to MPs concerned about the sacking of former shadow education secretary Rebecca Long-Bailey.
Mrs Long-Bailey was asked to stand down on Thursday after retweeting an interview which Sir Keir said contained an anti-Semitic conspiracy theory.
The interview with actress Maxine Peake suggested US police learned violent tactics from Israeli secret services.
Mrs Long-Bailey later said she did not agree with all aspects of the article.
"In no way was my retweet an intention to endorse every part of that article," she said.
Jewish groups and some MPs welcomed Sir Keir's decision but Mrs Long-Bailey's allies on the party's left said it was an overreaction.
The row began when the Salford and Eccles MP tweeted "Maxine Peake is an absolute diamond" with a link to an interview with the actress and Labour supporter on the Independent website.
On Friday morning Sir Keir spoke, via Zoom, to Labour MPs including those in the Socialist Campaign Group, who have expressed concern about Mrs Long-Bailey's sacking. The group's membership includes former leader Jeremy Corbyn, and other prominent left-wingers such as Diane Abbott and Richard Burgon.
Marie van der Zyl, president of the Board of Deputies of British Jews, told BBC Radio 4's Today programme Ms Peake's interview included a "dreamed-up" theory linking Israel with the death of George Floyd in Minnesota, US, last month.
"I think it's a horrendous situation and I think Rebecca Long-Bailey's response was pathetic. As someone who aspired to be an education secretary, she would be expected to read and understand materials," she said.
Former Labour MP and now government adviser on anti-Semitism John Mann told BBC Breakfast Sir Keir had been fair and shown leadership.
"I'm delighted and I'm very reassured. I think across the Jewish community, reassurance is the word that comes to mind," he said.
In the Independent article, Ms Peake, star of the BBC drama Silk, discussed the police killing of George Floyd in Minneapolis, saying: "The tactics used by the police in America, kneeling on George Floyd's neck, that was learnt from seminars with Israeli secret services."
The article quoted the Israeli police denying Ms Peake's claim. The actress later acknowledged it was "inaccurate", adding on Twitter that she found racism and anti-Semitism "abhorrent".
Three hours after Mrs Long-Bailey's retweet, a Labour spokesperson confirmed Sir Keir had asked her to stand down, saying he "has been clear that restoring trust with the Jewish community is a number one priority".
Labour has struggled with allegations of anti-Semitism since 2016.
It became a constant backdrop to the tenure of former Labour leader Jeremy Corbyn and Sir Keir stood as his successor on a platform of being tough on anti-Semitism in the party.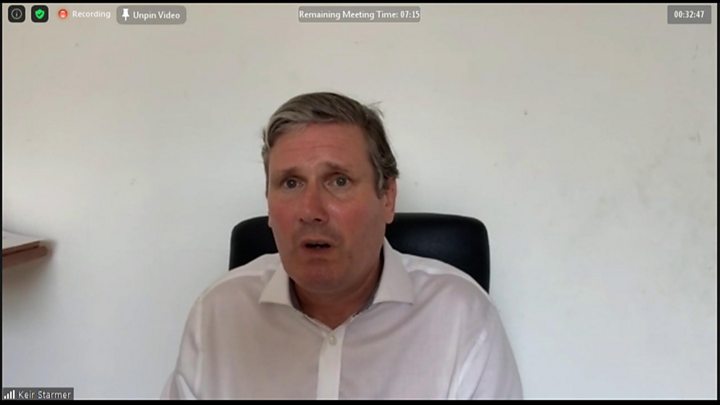 The Jewish Labour Movement welcomed the Labour leader's decision to sack Mrs Long-Bailey, while the Board of Deputies of British Jews thanked him for his "swift action".
However, John McDonnell, who was shadow chancellor under Mr Corbyn, was critical of the decision, saying: "Throughout discussion of anti-Semitism it's always been said criticism of practices of Israeli state is not anti-Semitic."
Unite general secretary Len McCluskey, whose union supported Mrs Long-Bailey when she ran against Sir Keir to become Labour leader, said her sacking was "an unnecessary overreaction to a confected row".
And Jon Lansman – chair of the Labour activist group Momentum – told the BBC the sacking was a "mistake", adding it "won't help" to unite the party and in fact has "made it much harder".
A reopening of divisions?
In demonstrating firm leadership, Sir Keir Starmer has inevitably highlighted his party's divisions.
The sacking of Rebecca Long-Bailey brought plaudits from MPs who had been close to ex-party leaders Tony Blair and Gordon Brown and from the Jewish labour movement.
But it attracted denunciation from those who had most strongly supported Jeremy Corbyn
Some don't believe Maxine Peake's assertion – that the American police had learned the technique that killed George Floyd from the Israeli security services – was anti-Semitic. But in any case Mrs Long-Bailey hadn't specifically endorsed this and Peake had admitted she'd been wrong.
So they will question whether Sir Keir was looking for an excuse to marginalise the left.
Momentum has begun a petition against the sacking and is urging members to win back power within the party.
Sir Keir's allies say the sacking of Mrs Long-Bailey should be taken at face value – she had refused to take down her retweet of Peake's views.
And that when he promised Jewish community groups "actions not words" on anti-Semitism, he had to deliver.
The removal of Mrs Long-Bailey was not part of a grand plan, they said, and it was "nonsense" that he was simply seeking an excuse to fire her.
Who is Rebecca Long-Bailey?
Mrs Long-Bailey was born in Old Trafford, Greater Manchester, in 1979 and before politics, she worked in a pawn shop and call centres.
At university, she studied politics and sociology and later studied law via part-time courses.
She joined the Labour Party in 2010 and was selected as Labour candidate for Salford and Eccles in the 2015 election.
She was one of 36 Labour MPs to nominate Mr Corbyn for the party's leadership in 2015 and subsequently joined his shadow cabinet.
When he stood down, she ran to replace him, saying the party needed a "socialist leader who can work with our movement, rebuild our communities and fight for the policies we believe in".
After Sir Keir won the contest in April, she joined his top team as shadow education secretary.
Read more here.


[ad_2]