[ad_1]

Some pupils are starting to return to schools in Wales for the first time since March.
It is hoped all pupils will be able to "check in, catch up and prepare" over the next three to four weeks ahead of the September term.
With strict social distancing measures and limited numbers in at a time, classrooms will look very different.
One headteacher said teachers were "excited" but had a "degree of anxiety and apprehension" as pupils returned.
Schools have been open throughout the lockdown, but only for pupils classed as vulnerable and for children of key workers.
Live: Schools start to welcome back some pupils
Parents who choose not to send their children to school will not be fined and pupils who fall into the shielding category will carry on with home learning.
Not all schools will reopen to all pupils as planned today, with schools on Anglesey remaining closed for now after a coronavirus outbreak at a meat processing factory, and five schools in Blaenau Gwent remaining shut after issues with water supplies.
'A bit nervous but excited'
BBC Wales reporter Caleb Spencer is at Marlborough Primary School speaking to parents, pupils and teachers as they return.
Pupils entering the school will find their classroom environments very different ahead of what has been described as a "new normal" when the new school year begins in September.
Schools of all sizes have had to reorganise to reduce the infection risk.
Of the 530 pupils at the Roath school, just 95 will come through the gates today, after 90% of parent and carers took up the offer for children to return to school.
The school looks very different, split into three zones – rainbow, dream and heart zones – where pupils can only walk in one direction. There are hand sanitiser stations on all building entrances and stickers guide children around the school.
Headteacher Geraldine Foley has taken around two "wellbeing dogs", Rolly and Maisy, to speak to parents and children to make them feel comfortable about returning to school.
Martha, seven, who returned to school said: "I was a bit nervous but excited. I'm excited to see my friends and Ms Sherlock."
What changes can we expect?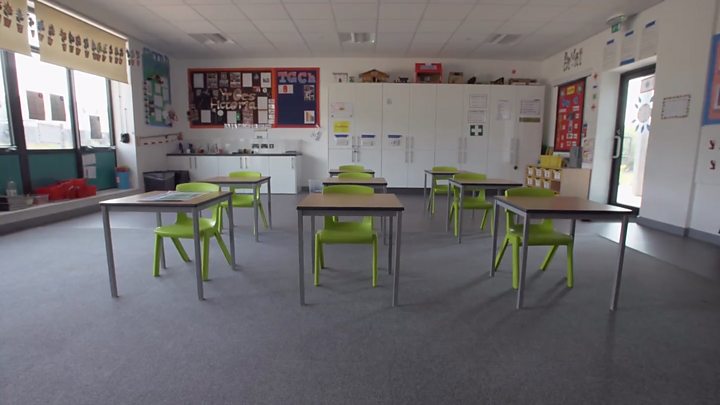 Classrooms will look very different due to the coronavirus pandemic. Here are some of the changes you can expect as children return over the next few weeks:
Smaller class sizes, with about a third of pupils in school at any one time
Staggered starts and breaks
Social distancing, with fewer desks and pupils sitting apart
Pupils working in smaller groups
More learning outdoors
More cleaning
Pupils being encouraged to walk or cycle to school
Extra handwashing and hand sanitiser stations
Some schools may not provide lunches – pupils should take packed lunches
Welsh Government guidance says there is "no need" for staff or pupils to wear personal protective equipment" (PPE) unless providing "intimate care" to a child, such as helping them wash, eat or go to the toilet.
The Welsh Government said it expects that most pupils will have the chance to go to school at least three times before the summer break, but this depends on the individual school.
'Warm up for September'
Ysgol Gynradd Cerrigydrudion, in Conwy, has set up one classroom in the school hall, while others will have a maximum of six pupils in each.
Online lessons will also continue, and they are looking ahead to the likelihood of the school experience being "blended learning" for the considerable future, beyond September.
The village primary school normally has 80 children but now can admit a maximum of 26 pupils at a time, which includes children of key workers.
"Our plan will hopefully allow a connection with each child that wishes to come back to school," said head teacher Eirlys Edwards.
"And, of course, we respect the wishes of parents who don't want their children to return to school but we're aiming to keep in contact with them with live streaming as well.
"Hopefully this will be a warm-up, to prepare them for September, to return confidently."
'Welcoming environment'
In the Vale of Glamorgan, about 80% of pupils are expected to return in different cycles over the next few weeks.
An app is being used to give teachers, pupils and parents guidance on the school day and how to deal with issues around social distancing in the classroom and playground.
Jane O'Leary, of Vale of Glamorgan council, said: "It's a good way of showing pupils and parents that everything's being considered and it's safe to come back."
Other schools and councils have produced their own videos.
Ms O'Leary said coronavirus had presented big challenges for the council's 60 schools around transport, meals, hygiene and classroom logistics but the pieces were in place to provide a "safe and welcoming environment for staff and pupils".
Headteacher Stephen Garthwaite, of Ysgol y Grango in Wrexham, said teachers had done all they could to make classrooms safe.
But he said about 25% of pupils would not be returning yet, and there was a feeling of "apprehension" amidst the excitement today.
"Things are very, very different, it's not the school we left, so there is a degree of anxiety and apprehension but generally we are very excited to see the pupils again," he told BBC Radio Wales Breakfast.
What do parents think?
While many will be returning to school from today, it is up to parents to decide whether to send their children back during the pandemic.
Rachel Meredith, from Blaenau Gwent, said it was still "too risky" and she would not send her son and daughter back yet.
Her daughter Isabelle, five, had pneumonia last year, and she said she would not "I can't put her through that again".
In Porthcawl, Julie James said while it was important for her daughter to go back as she was doing her GCSEs, she was "anxious" about her returning to school.
"She is apprehensive but excited," said Ms James, who said her daughter went to a Welsh medium school, but as the family cannot speak it, she had hardly spoken it for three months.
"The longer the lockdown has gone on the more demotivated she has been," she told Radio Wales Breakfast.
"We are all a bit anxious for her to go back, but the school say they are social distancing and they have concentrated on cleanliness".
What will happen in September?
There are still lots of questions too as to what learning may look like in the next academic year and those in education will be looking to the education minister for what happens next.
Kirsty Williams said last week that she suspected blended learning was likely to continue "for some time" although she did not rule out a full return to school in September.
How about the rest of the UK?
Wales is the only part of the UK to reopen primary and secondary schools to all pupils from today.
Secondary schools in England have been allowed to reopen for Years 10 and 12 since 15 June, but pupils in all year groups will not go back to school full-time in September.
In Scotland the aim is to reopen full-time with no physical distancing in August if coronavirus continues to be suppressed.
In Northern Ireland, the plan is for schools to fully reopen on 24 August with social distancing reduced from 2m to 1m.
[ad_2]