[ad_1]

All pupils in all year groups in England will go back to school full-time in September, Education Secretary Gavin Williamson has announced.
At the daily coronavirus briefing, he said the government was "signed up… to bring every child back, in every year group, in every school".
Guidance on safety measures will be published in the next fortnight.
It comes after the prime minister announced a £1bn fund to help England's pupils catch up with learning.
Mr Williamson also said class size limits – or "bubbles" – imposed to curb the spread of the virus could be increased to allow every child to return to school.
Under current rules imposed during the coronavirus pandemic, class sizes are limited to a maximum of 15 pupils, but the education secretary said ministers were looking at "expanding those bubbles to include the whole class".
Class sizes vary in England, but this could be around 30 pupils.
Teachers' unions say the proposals have not been thought through.
"There is no social distancing if you've got 30 children in one classroom," Kevin Courtney, joint general secretary of the National Education Union (NEU), told the BBC.
"But then you're going to ask them to abide by social distancing when they go out, I think that won't work and that will mean children aren't looking at social distancing at all."
Schools closed to everyone except vulnerable children and those with a parent identified as a key worker on 20 March, in response to the pandemic.
As the lockdown measures started easing at the beginning of this month, children in nursery, reception, Year 1 and Year 6 were encouraged to return to primary schools in England, albeit in smaller class sizes.
Some Year 10 and 12 pupils – selected because they are sitting GCSEs and A-levels respectively next summer – returned to secondary schools and colleges this week.
Ministers now want all pupils in England to return to classrooms full-time in the autumn, ending a near six-month absence for many pupils.
"School is vital to every one of our children, that is why we will bring all children, in all year groups, back to school in September," Mr Williamson said.
'Deadline in place'
It is a promise that many parents will have been waiting to hear.
Education Secretary Gavin Williamson has committed to all school pupils in all year groups going back full-time in September.
The part-time, online, often not-really-anytime lessons will be over.
But the much trickier question will be how to deliver this.
Even if social distancing is reduced – and class size "bubbles" of 15 pupils can be increased – there will still be massive logistical challenges.
Head teachers have warned any social distancing, even 1m, will require additional classrooms and teachers.
And they have been exasperated at time ticking away without any clear plan – with heads' leader Geoff Barton complaining schools are working in an "information black hole".
When the government had to U-turn on bringing back all primary pupils it was because nobody listened to similar warnings about lack of space.
But a September deadline is now in place – and there will be high political stakes if there is another failure to deliver.
The education secretary said signs that the spread of coronavirus was reducing meant that ministers could now look at "making sure that every child returns to school".
He said he understood "there is anxiety still among parents" about their children going back to school, but stressed: "I want to assure you that the well-being of your children is the absolute top priority for every single one of us."
The government will publish guidance for schools within the next two weeks on how to bring children back "so that schools have the maximum amount of time to prepare for the next phase", Mr Williamson said.
However, there was no confirmation of whether the government's 2m social distancing rule was going to be relaxed in schools.
Mr Williamson reiterated that a review of the measure is under way, and added that could not provide an exact date for a decision.
School catch up: No such thing as a free launch
A third of pupils 'not engaging with set work'
Current Department for Education (DfE) guidance states that primary school classes should be split in half and contain no fewer than 15 pupils, desks should be spaced as far apart as possible and lunch, break, drop-off and pick-up times should be staggered.
Schools should also consider introducing one-way circulation, or placing a divider down the middle of the corridor, to keep young people apart, it adds.
Mr Williamson was speaking after the coronavirus alert level for the UK was downgraded from four to three, paving the way for a "gradual relaxation of restrictions".
At level four, transmission of the virus was thought to be "high or rising exponentially"; at three, it is thought be "in general circulation".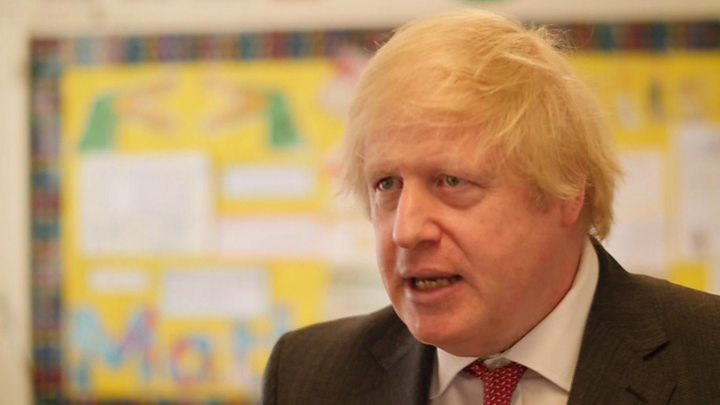 Earlier, Prime Minister Boris Johnson said he was "determined to do everything" he could to get all children back in school from September.
"We will bring forward plans on how this will happen as soon as possible," he said.
The prime minister's pledge prompted teachers' unions to call for further clarity on the proposals.
Geoff Barton, general secretary of the Association of School and College Leaders (ASCL), said schools and colleges were trying to prepare for September amid an "information black hole" from the government.
Mr Barton said school and college leaders were preparing for two scenarios for the autumn – using rotas to stagger the return of pupils or bringing students back full-time – amid an "absence of information".
Paul Whiteman, general secretary of school leaders' union NAHT, said: "The desire to bring everyone back is correct but we need to know what the government is thinking and the scenarios they are planning for.
"This will give school communities what they need to get through this term and plan for the new academic year in September."
Mr Courtney, of the NEU, said earlier: "The prime minister's hopes are not enough."
"If the requirements of social distancing – in order to stop a second peak – are reduced even to 1m, then most schools could not have 30 children in a classroom," he added.
There are separate rules for managing the threat of coronavirus in England, Wales, Scotland and Northern Ireland.
Schools in Wales are reopening at the end of June, with only a third of pupils in class at any time, while in Scotland, schools are preparing to reopen on 11 August.
Social distancing in schools has been halved to 1m (just over 3ft) in Northern Ireland, where ministers are aiming for a full reopening of schools on 24 August.
However, head teachers have warned that parts of the Northern Ireland plan are "unrealistic and undeliverable".
The £1bn fund to help England's children catch up will see the most disadvantaged pupils gain access to tutors through a £350m programme in the year from September.
Primary and secondary schools will be given £650m to spend on one-to-one or group tuition for any pupils they think need it.
[ad_2]